About Vinoba Bhave University, Hazaribagh
Onlineresultportal.com | Updated: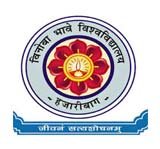 Vinoba Bhave University is a Government funded University which came into being in 1992 at Hazaribagh in the Indian State of Jharkhand. Earlier Vinoba Bhave University was a part of Ranchi University. This University is one of the best Universities of Jharkhand offering quality education at undergraduate and postgraduate levels and also offers high standards of teaching and research in every course.
The university has a distinguished alumni body and faculty. This university is also a member of Association of Commonwealth Universities, London and the University Grants Commission (UGC), New Delhi recognized and registered it under section 12B of the UGC Act 1956. Moreover the National Assessment and Accreditation Council (NAAC) have accredited "B++" Grade upon this seat of higher learning. Around 26 colleges of Jharkhand are managed by this University along with 50 non- constituent colleges.
Vinoba Bhave University imparts postgraduate teaching, training and research in various vocational and traditional courses under the faculty of Commerce, Social Science, Humanities, Science, Management, etc. Some of the courses taught here are Commerce, Economics, Geography, History, Home Science, Political Science, Psychology, Anthropology, English, Hindi, Philosophy, Sanskrit, Urdu, Botany, Chemistry, Zoology, Geology, Mathematics, Physics, Business Administration, Clinical Nutrition and Dietetics, Biotechnology, Computer Application and Education. Admission to above courses is purely based on merit. Vinoba Bhave University has every world-class facility like well-equipped hostels, laboratories, library, sports arena, computer lab, Wi-Fi, etc to attract maximum number of students from Jharkhand and other States.
Students seeking admission to this University are advised to check the University's main website- www.vbu.ac.in regarding extensive knowledge about this University, courses, fees, admission , result and other notifications and important dates. Moreover, educational websites like www.onlineresultportal.com also offers students accurate information about educational institutes, courses, admit cards, results and other related information.

Details of Vinoba Bhave University
Name
VBU (Vinoba Bhave University)
Affiliations
UGC
Contact No
06546 270 982
Website
www.vbu.ac.in
Founded
17 September 1992
Email
info@vbu.ac.in
Address
Vinoba Bhave University Road, Hazaribagh, Jharkhand 825301
State
Jharkhand
Country
India
List of courses offered by Vinoba Bhave University

Degree
Duration
Arts Courses
B.A.
3 Years
B.Ed.
1 Years
B.P.Ed.
3 Years
M.A.
2 Years
M.Ed.
2 Years
M.Phil.
2 Years
Engineering Courses
B.Tech. (Electronics & Communication Engineering)
4 Years
B.Tech. (Mechanical Engineering)
4 Years
Medical Courses
B.A.M.S.
5 Years
B.D.S.
3 Years
M.B.B.S.
5½ Years
Science Courses
B.Sc.
3 Years
M.Sc.
2 Years
M.Sc. (Biotechnology)
2 Years
Ph.D.
2 Years
Management Courses
M.B.A.
2 Years
Post Graduate Diploma in Business Management
2 Years
Commerce Courses
B.Com.
3 Years
M.Com.
2 Years
Agriculture Science and Technology Courses
M.Tech. (Soil Water Conservation Engineering)
2 Years
Information Technology Courses
B.Tech. (Computer Science)
4 Years
B.Tech. (Information Technology)
4 Years
M.C.A.
3 Years
M.Sc. (Information Technology)
2 Years
Post Graduate Diploma in Computer Applications (P.G.D.C.A.)
1 Years
Law Courses
B.A. + L.L.B. (Hons)
5 Years
L.L.B.
3 Years
L.L.M.
2 Years
List of colleges affiliated with Vinoba Bhave University

City
College Name
Bokaro
1
Al- Habeeb Teachers Training College
2
ARS B.Ed. College
3
BB Amina Women's College
4
BDA College
5
Bhavnath Chaudhary College of Education - BNCCE
6
Bokaro Institute of Technology
7
Bokaro Mahila College
8
Bokaro Steel City College
9
Guru Gobind Singh Educational Society's Technical Campus - GGSESTC
10
Imamul Hai Khan Law College
11
JSM College
12
Krishna Ballav College
Chatra
1
Bhadrakali College
2
Chatra College
Dhanbad
1
Al-Iqra Teachers' Training College
2
Baghmara College
3
BBM College
4
Bholanath Shivnath Kharakia College
5
Birsa Institute of Technology - BIT
6
BSS Mahila College
7
Coalfield College
8
Guru Nanak College
9
Katras College
10
KSGM College
11
Patliputra Medical College and Hospital - PMCH
12
PK Roy Memorial College
13
R.S. More College
14
Sindri College
15
SSLNT Mahila Mahavidyalaya
16
SSLNT Mahila Mahavidyalaya College
17
Tathagat Teacher's Training College
18
Vishweshwaraiya B.Ed. College
Giridih
1
Adarsh College
2
BN Saha Teachers Training College
3
GD Bagaria Teachers Training College
4
Giridih College
5
Kalu Ram Modi College
6
Langta Baba College
7
R.K. Mahila College
Godda
1
Government Homoeopathic Medical College and Hospital
Hazaaribagh
1
Al-Iqra Teachers' Training College
2
Annada College
3
Balanand Sanskrit College
4
BSK College
5
DAV Mahila College
6
DS Ayurvedic College
7
Gautam Buddha Teachers Training College
8
Government Teachers Training College - GTTC
9
Hazaribag College of Dental Sciences and Hospital - HCDSH
10
JM College
11
JNM Sanskrit College
12
Karnapura College
13
KB Women's College
14
Markham College of Commerce
15
SBM Teacher's Training College
16
Sri Ramakrishna Sarada Ashrama Teachers Training College
17
St. Columba's College
Jamshedpur
1
Singhbhum Homoeopathic Medical College and Hospital
Koderma
1
Grizzly College of Education
2
Jagannath Jain College
3
Jharkhand Law College
4
Jharkhand Teachers Training B.Ed. College
5
Jharkhand Vidhi Mahavidyalaya
6
Ram Govind Institute of Technology
Ramgarh
1
Chotanagpur College
2
Jubilee College
3
Maharshi Paramhansh College of Education
4
Ramgarh College
Ranchi
1
Govt. Sanskrit College
2
Suryamukhi Dinesh Ayurved Medical College