Satavahana University Exam Result 2023
Onlineresultportal.com | Updated: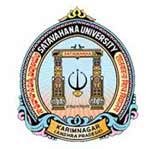 The Satavahana University, established in June 2008 has its origin in the former Post Graduate Centre of Osmania and Kakatiya Universities. This University is established by the Government of Andhra Pradesh and it is named after the great Satavahana dynasty that ruled this region. The 200-acre main campus of Satavahana University is located in the Karimnagar Town of Telangana State. This University takes care of the higher education needs of the entire Karimnagar district. This University offers undergraduate, postgraduate, professional as well as research programmes. The University has also started affiliating various undergraduate and postgraduate colleges since 2010. There are over 191 affiliated Government and Private Colleges spread far and wide over the entire Karimnagar District which is affiliated by the Satavahana University.
Currently, the academic system of Satavahana University consists of nine faculties offering all major courses of Science, Law, Commerce & Management, Oriental Languages, Arts and Social Sciences. The Constituent Colleges of the University are now offering the Programmes such as M.A. in English, Telugu, Urdu, Economics and Sociology, M.Sc. in Botany, Chemistry, Computer Science and Food Science & Technology, Physics Instrumentation, Mathematics and M.Com, M.B.A, M.C.A and B. Pharmacy. Moreover, apart from providing quality education this University is also involved in providing facilities like library, computer centre, hostels, sports, National Service Scheme, Placement Cell, Student Welfare Centre, etc for the well-being of the students.
Interested students aspiring to take admission to this prestigious University are advised to go through the official website of Satavahana University- www.satavahana.ac.in for admission, courses and fees structures along with other notifications and updates. Moreover, www.onlineresultportal.com is also handy for the students to get information about all Indian University of each and every state.
Latest Updates:

Result Announcement

Date
17-09-2021
04-05-2021
30-12-2020
11-12-2020

Details of Satavahana University
Name
Satavahana University
Affiliations
UGC
Contact No
094918 04500
Website
www.satavahana.ac.in
Founded
2008
Email
coesatavahana@gmail.com
Address
Malkapoor Road, Chintakunta, Karimnagar-505001
State
Telangana
Country
India
List of courses offered by Satavahana University

Degree
Duration
Arts Courses
B.A.
3 Years
M.A. (Economics)
2 Years
M.A. (English)
2 Years
M.A. (Social Work)
2 Years
M.A. (Sociology)
2 Years
M.A. (Telugu)
2 Years
M.A. (Urdu)
2 Years
Medical Courses
B.Pharm.
4 Years
Science Courses
B.Sc.
3 Years
M.Sc. (Botany)
2 Years
M.Sc. (Chemistry)
2 Years
M.Sc. (Computer Science)
2 Years
M.Sc. (Food Science and Technology)
2 Years
M.Sc. (Mathematics)
2 Years
M.Sc. (Microbiology)
2 Years
M.Sc. (Physics)
2 Years
M.Sc. (Zoology)
2 Years
Management Courses
Bachelor of Business Management (B.B.M.)
3 Years
Commerce Courses
B.Com.
3 Years
M.Com.
2 Years
M.Com. (Accounting and Finance)
2 Years
List of colleges affiliated with Satavahana University

City
College Name
Karimnagar
1
Apoorva Degree College
2
Gandhi Memorial Degree College
3
Gnanodaya Degree College
4
Jayasree Degree College
5
Justice Kumarayya College of Law
6
S.K.N.R. Government Arts and Science College
7
Surya College of Education
Kurnool
1
S.L.N. Degree College
Rajkot
1
Dharmendrasinhji Arts College