Tamil Nadu Fisheries University Exam Result 2023
Onlineresultportal.com | Updated: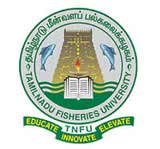 Tamil Nadu Fisheries University is state funded Fisheries University in India located at Nagapattinam. Established in 2012, this University imparts professional education, research and quality training to develop production of fish by utilizing courses pattern and syllabi of State Agricultural University. The main motto of this University is development of fisheries and also makes them as a source of livelihood. The fishing sector of Tamil Nadu is greatly helped and developed by the Tamil Nadu Fisheries University via diverse extension and training programs including farm advisory services, answers to farmer's queries, organizes mass awareness programmes, Fish farmers' meets, stakeholders linkage through mass media, industry-institute meets and exhibitions.
This seat of higher learning also acts as a consultancy which involves in giving certification to the seafood products by monitoring the quality of the fish. Moreover, the University's laboratories are also involved in surveillance of aquatic animal for diseases. In addition to this, quality education is provided in levels of undergraduate, postgraduate, research courses. The faculty of Fisheries Sciences, Fisheries Engineering, Basic Sciences, Fisheries Information and Social Sciences and Food Science and Nutrition. Moreover, the Directorate of research and extension education of Tamil Nadu Fisheries University has their centers on various parts of the State. Here collaborative research activities in various areas of fisheries are done through staff and student exchange programmes. In this regards MOU's are signed between the University with Auburn University (USA) and Guangdong Ocean University (China).
Interested students and scholars can check for more details about Tamil Nadu Fisheries University though its official website- www.tnfu.ac.in regarding admission, courses, fees structures and other details. Moreover, www.onlineresultportal.com also provides information about Universities and results of various examinations.

Details of Tamil Nadu Fisheries University
Name
TNJFU (Tamil Nadu Fisheries University)
Affiliations
UGC
Contact No
04365 241 444
Website
www.tnfu.ac.in
Founded
2012
Email
registrar@tnfu.org.in
Address
First Line Beach Road, Nagapattinam, Tamil Nadu 611001
State
Tamil Nadu
Country
India
List of courses offered by Tamil Nadu Fisheries University

Degree
Bachelor of Fisheries Science
Master of Fisheries Science
Ph.D
B.E. (Fisheries Engineering) Degree Programme
List of colleges affiliated with Tamil Nadu Fisheries University

| City | College Name |
| --- | --- |
| 1 | Fisheries College and Research Institute, Ponneri |
| 2 | College of Fisheries Engineering,Nagapattinam |
| 3 | Fisheries College and Research Institute, Thoothukudi |