Thiruvalluvar University Vellore Exam Result 2023
Onlineresultportal.com | Updated: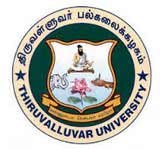 Thiruvalluvar University is a Public University situated in the city of Vellore in the Indian State of Tamil Nadu. The University is established by the Government of State in 2002 and it is created in the name of the great Tamil poet and philosopher- Thiruvalluvar. The campus of this University is spread over 112 acres of land which is filled up with administrative blocks, academic buildings, hostels, computer science buildings, library, sports room, canteens and other infrastructures of modern facilities. The University strives to be the best temple of learning by providing advanced research and distribution of knowledge for the sake of social and economic development of the society.
The University Grants Commission (UGC) and the National Assessment and Accreditation Council (NAAC) have recognized the University and approve all the courses taught at various departments of study. The Thiruvalluvar University has been 7 departments namely: Tamil, English, Economics, Chemistry, Mathematics, Zoology and Biotechnology. Here quality education is imparted in levels of undergraduate, postgraduate, M.Phil and Phd programmes. Moreover, these courses are also offered at the 98 colleges of arts and science which are affiliated by Thiruvalluvar University. Additionally, distance education programmes are also offered since past few years by the Thiruvalluvar Institution of Distance Education (TIDE) of this University. Interested students who want to take admission at this University can look for its official website- www.thiruvalluvaruniversity.ac.in for details related to admission, courses, fees structures and other updated information. Moreover, www.onlineresultportal.com is an ultimate education-based website to impart knowledge of all Indian Universities and results of various examinations efficiently with the students.

Details of Thiruvalluvar University
Name
TU (Thiruvalluvar University)
Affiliations
UGC
Contact No
0416 227 4755
Website
www.thiruvalluvaruniversity.ac.in
Founded
October 2002
Email
info@thiruvalluvaruniversity.ac.in
Address
Serkkadu, Vellore - 632 115, Tamil Nadu, India
State
Tamil Nadu
Country
India
List of courses offered by Thiruvalluvar University

| Degree | Duration |
| --- | --- |
| B.A. (Corporate Economics) | 3 Years |
| B.A. (Defence & Strategic Studies) | 3 Years |
| B.A. (English) | 3 Years |
| B.A. (History) | 3 Years |
| B.A. (Hons.) (Economics) | 3 Years |
| B.A. (Tamil) | 3 Years |
| M.A. (Economics) | 2 Years |
| M.A. (English) | 2 Years |
| M.A. (History) | 2 Years |
| M.A. (Mathematics) | 2 Years |
| M.A. (Tamil) | 2 Years |
| M.Ed. | 2 Years |
| B.Sc. (Nutrition & Dietetics) | 3 Years |
| B.Sc. (Biochemistry) | 3 Years |
| B.Sc. (Biotechnology) | 3 Years |
| B.Sc. (Chemistry) | 3 Years |
| B.Sc. (Computer Applications) | 3 Years |
| B.Sc. (Electronics) | 3 Years |
| B.Sc. (Environmental Science) | 3 Years |
| B.Sc. (Hons.) (Computer Science) | 3 Years |
| B.Sc. (Hons.) (Electronics) | 3 Years |
| B.Sc. (Hons) (Geology) | 3 Years |
| B.Sc. (Industrial Chemistry) | 3 Years |
| B.Sc. (Information Systems and Management) | 3 Years |
| B.Sc. (Mathematical Science) | 3 Years |
| B.Sc. (Mathematics) | 3 Years |
| B.Sc. (Microbiology) | 3 Years |
| B.Sc. (Physical Education) | 3 Years |
| B.Sc. (Physics) | 3 Years |
| B.Sc. (Zoology) | 3 Years |
| M.Sc. (Applied Microbiology) | 2 Years |
| M.Sc. (Biochemistry) | 2 Years |
| M.Sc. (Bioinformatics) | 2 Years |
| M.Sc. (Biotechnology) | 2 Years |
| M.Sc. (Chemistry) | 2 Years |
| M.Sc. (Computer Science) | 2 Years |
| M.Sc. (Electronics) | 2 Years |
| M.Sc. (Mathematics) | 2 Years |
| M.Sc. (Physics) | 2 Years |
| M.Sc. (Zoology) | 2 Years |
| B.B.A. | 3 Years |
| M.A. (Human Resource Management) | 2 Years |
| M.B.A. | 2 Years |
| B.Sc. (Visual Communication) (Electronic Media) | 3 Years |
| B.Com. | 3 Years |
| B.Com. (Corporate Secretaryship) | 3 Years |
| B.Sc. (Plant Science and Plant Biotechnology) | 3 Years |
| M.Sc. (Plant Biotechnology) | 2 Years |
| M.C.A. | 3 Years |
| M.Sc. (Information Technology) | 2 Years |
List of colleges affiliated with Thiruvalluvar University

City
College Name
Annamalai
1
C. Kandaswami Naidu College for Men - CKNC
Chennai
1
Ansaldo College of Education
Cuddalore
1
Aries Arts and Science College for Women
2
B.Padmanabhan Jayanthimala College of Arts and Science
3
C. Kandaswami Naidu College for Women
4
CS Jain Teacher Training Institute
5
Dr. S.Ramadoss Arts and Science College
6
Government Arts College
7
Jawahar Science College
8
Krishnasamy College of Science, Arts and Management for Women
9
Periyar Arts College
10
Senthil College of Education
11
Shree Raghavendra Arts and Science College
12
Sree Arumugham Arts and Science College
13
Sri Thangam Periyasamy Arts and Science College for Women
14
Thiru Kolanjiappar Government Arts College
15
Thiruvalluvar Arts and Science College
Thiruchirapalli
1
King Nandhivarman College of Arts and Science
Tirunelveli
1
Thiru A.Govindasamy Government Arts College
Tiruvannamalai
1
Arunachala College of Education
2
Chezhian College of Education
3
Dhivya Arts and Science College
4
Dr. MGR Chockalingam Arts College
5
Government Arts College
6
Indo-American College
7
Kamban College of Arts and Science for Women
8
King Nandhivarman College of Arts and Science
9
Shanmuga Industries Art and Science College
10
Shunmuga Industries Arts and Science College
11
Sri Akilandeswari Womens College
Vellore
1
Adhiparasakthi College of Arts and Sciences - Autonomous
2
Adhiparasakthi College of Education
3
C. Abdul Hakeem College - Autonomous
4
Darul Uloom Latheefia Arabic College
5
DKM College for Women (Autonomous)
6
Don Bosco College - DBC
7
Government Thirumagal Mill's College
8
Islamiah College - Autonomous
9
K.M.G. College of Arts and Science
10
K.M.G. College of Education
11
Kaveripakkam Arts and Science College
12
M.M.E.S. Women's Arts and Science College
13
Marappan Lakshiamma Arts and Science College
14
Marudhar Kesari Jain College for Women
15
Mazharul Uloom College
16
Mercury College of Arts and Science
17
Muthurangam Government Arts College
18
S.S.S. College Art, Science and Management
19
Sacred Heart College - Autonomous
20
Tirupathur Arts and Science College
21
Voorhees College
Villupuram
1
Bharathi Arts and Science College
2
BWDA Arts and Science College
3
Dr. R.K. Shanmugam College of Arts and Science
4
Immaculate College for Women - ICW
5
Indira Gandhi Jayanthi Women's College
6
Joseph Arts and Science College
7
K.S. Raja College of Arts and Science for Women
8
R.A.A.K. Arts and Science College
9
R.T.G. Arts and Science College for Women
10
Rajeswari College of Arts and Science for Women
11
Sanghamam College of Arts and Science
12
Siddhar Sivagnaani Arts and Science College for Men
13
SIGA College of Management and Computer Science
14
Sri Aravindar Arts and Science College
15
Sri Ranga Poopathi College of Education
16
Sri Vinayaga College of Arts and Science
17
Theivanai Ammal College for Women - Autonomous
18
Thirukkoilur College of Arts and Science
19
Tirukkovilur College of Arts and Science
20
V.E.T. College of Education - VETCE