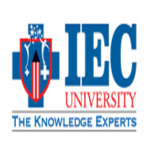 In the year 2012, the Indian Education Centre (IEC) University was established at the HIMUDA Education Hub that is situated in close vicinity to the Kallujhanda village in the Solan district of the Indian state of Himachal Pradesh. IEC was instituted in the year 2012 and is a private university. IEC's official website is www.iecuniversity.com.
At IEC, the aspirants can opt for varied undergraduate, postgraduate, diploma, post-diploma, and doctoral programs. The several disciplines under which the courses are offered include information technology, mass communication, commerce, fashion & interior designing, architecture, law, medicine, science, management, and engineering ones.
The various schools and departments at IEC are IEC School of Computer Application, IEC School of Engineering, IEC School of Business Management & Commerce, IEC School of Humanities & Social Sciences, IEC School of Basic Sciences, School of Law, School of Pharmacy, IEC School of Journalism and Mass Communication, IEC School of Architecture, IEC School of Art and Fashion, and Department of Physiotherapy.
IEC University is focused on delivering multi-disciplinary quality education through efficient means for the aspirants and their overall development.
The University campus extends over 14.5 acres of land and is nestled in the foothills of the Shivalik Mountains. Surrounded by lush greenery, state-of-the-art infrastructure, and beautiful scenery, the campus provides an ideal environment to impart knowledge and training. Also, the Academic Block on the campus contains well-equipped auditoriums, digital library, well-maintained laboratories, lecture rooms, computer center, and seminar halls.
Additional facilities for the University students at IEC include transportation services, sports grounds, gymnasiums, canteen, medical center, hobby clubs, internships, placements, and Students Activity Center (SAC).
Indian Education Centre University Result at iecuniversity.ac.in
The Indian Education Centre (IEC) University, located in the Solan district of the Indian state of Himachal Pradesh, makes available the exam results of its affiliated programs on its official website, https://iecuniversity.ac.in/. Candidates awaiting the IEC University exam results are required to browse the home page of its official portal.
Once the IEC University examiners declare the exam results, you should visit the home page of its official portal. Your next step entails searching for and then tapping the "Student Login" tab. You then have to enter your login credentials, following which the system displays your exam result on the screen. Having a print copy of your IEC University exam result is always advisable.
The IEC University offers a variety of courses through its different schools. Among the IEC University schools are the School of Engineering, the School of Law, the School of Pharmacy & Allied Health Sciences, and the School of Basic & Applied Sciences – to list a few.
    Details of IEC University Solan
 Full Name
   IEC University Solan
 Affiliations
   UGC
  Contact No
   1800-3000-8311
  Website
   https://www.iecuniversity.com/
  Founded
   2012
  Email
  enquiry@iecuniversity.com
  Address
  Plot No.- 7 & 10, Atal Shiksha Nagar, (Kallujhanda), Near-Village Nanak Pura, Pinjore-Nalagarh Highway, District:- Solan, Himachal Pradesh-174103 (India)
 State
  Uttarakhand
 Country
  India