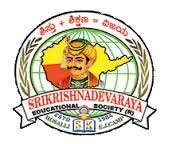 Sri Krishnadevaraya University (SKU) is recognized as a public university and was established in July 1981. Sri Krishnadevaraya, whom the University is named after, belonged to the Vijayanagara Kingdom during the 16th century. Presently, the university serves the higher educational needs of the revenue districts of Kurnool and Anantapur.
During the year 1968, a Post Graduate Centre (PGC) of Sri Venkateswara University was established that later went on to become SKU. In the year 1977, the PGC was granted autonomous status. Then, in the year 1981, the Autonomous PGC became SKU. During the initial years, the University was a unitary residential one. Then, in the year 1987, the status of the University became an affiliating one. In the year 1993, the PGC at Kurnool came under the jurisdiction of the university.
At present, the University offers postgraduate and research courses at the PGC in Kurnool and the University College at Anantapur. The University College conducts 28 postgraduate courses through 28 departments. At the PGC in Kurnool, there are 8 departments that run 11 postgraduate courses.
Aspiring students can apply for courses in the fields of Management, Information Technology, Arts, Technology, Agriculture Sciences, Commerce, Medical, and Arts at SKU. Currently, the center has 112 affiliated colleges, out of which 7 are for women candidates only.
The University students can avail facilities such as research projects, campus schools, hostels, Center for Distance Education (CDE), Special Assistance programs, sports center, health center, central library, Computer hub and net connectivity.
For more information about the University, the center's official website www.skuniversity.ac.in can be visited. The site contains details about the affiliated and constituent colleges, research courses, Administration, various available amenities, admissions, and newest updates. Also, the site www.onlineresultportal.com can be browsed by the aspiring students. The website provides a detailed overview of the different state boards. Also, aspirants can get information on important notifications, admission procedures, vital links, and examinations on the website.
Sri Krishnadevaraya University Exam Result on skuniversity.ac.in
The Sri Krishnadevaraya University (SKU), based in Anantapuram in the Indian state of Andhra Pradesh, makes accessible the exam results of its various affiliated programs on its official portal, http://skuniversity.ac.in/. Candidates who appear for the semester and / or annual exams that the SKU conducts should check their examination results by visiting its official web portal.
After the SKU declares the results, you can check your results by first going to the home page of its official portal. Continue by searching for the "Results" tab and tapping the relevant result link. After doing so, you will be directed to the login page. You should proceed by entering your Hall Ticket Number. Once you do so, you can view your result on the screen.
The SKU offers a wide range of UG and PG courses. Among courses that the SKU has provisions for are MBA, BTech, MTech, M Pharmacy, MCom, MPED, BPED, M. Phil, BCom, and BBM – to list a few.
   Details of Sri Krishnadevaraya University

  Name
 SKU (Sri Krishnadevaraya University)
  Affiliations
 UGC
  Contact No
 085542 55804
  Website
 http://skuniversity.ac.in/
  Founded
 1981
  Email
 registrar@skuniversity.ac.in
  Address
 NH-205, Anantapur – Tirupati Highway, Anantapur, Andhra Pradesh 515003
  City
 Anantapur
  State
 Andhra Pradesh
  Country
 India
List of courses offered by Sri Krishnadevaraya University

|    S. No. |   Courses |
| --- | --- |
| 1 | B.Tech |
| 2 | B.Pharmacy |
| 3 | B.A |
| 4 | B.Sc |
| 5 | B.Com |
| 6 | BBM |
| 7 | BED |
| 8 | BPED |
| 9 | M.Tech |
| 10 | M.Pharmacy |
| 11 | MCA |
| 12 | MBA |
| 13 | MA |
| 14 | Msc |
| 15 | Mcom |
| 16 | MPED |
| 17 | MSW |
| 18 | MLISC |
| 19 | M.Phil |
| 20 | Ph.D |
List of colleges affiliated with Sri Krishnadevaraya University

|    S. No. |    College Name |
| --- | --- |
| 1 | A.N.K. Degree College, Gorantla. |
| 2 | Archana Degree College, Nambulapulakunta. |
| 3 | BALAJI COLLEGE OF EDUCATION, ANANTAPURAMU. |
| 4 | Balayesu Degree & PG College, HINDUPUR. |
| 5 | Balayesu Degree College, Hindupur. |
| 6 | Blue Moon Degree College, Kadiri. |
| 7 | C.V. Raman Degree & PG College, TADIPATRI. |
| 8 | C.V.L.N.R. Degree College, Ananthapuramu. |
| 9 | CMI Degree College, Ananthapuramu. |
| 10 | CMI Degree College, Kalyandurg. |
| 11 | DEKSHITHA COLLEGE FO EDUCATION, TADIPATRI. |
| 12 | Enlight College of Science & Commerce, Parigi. |
| 13 | Government Degree for Men Ananthapuramu. |
| 14 | Govt. Degree & PG College for Men, ANANTAPUR. |
| 15 | Govt. Degree College, Tadipatri. |
| 16 | Govt. Degree College, Uravakonda. |
| 17 | H.M. Degree College, Gandlapenta. |
| 18 | HAILEE COLLEGE OF EDUCATION, KALYANDURG. |
| 19 | HAINDAVI UNIVERSAL COLLEGE OF EDUCATION, DHARMAVARAMU. |
| 20 | J.C.N.R.M. Degree College, Tadipatri. |
| 21 | Jyothirmaiee Degree College for Women Kalyandurg. |
| 22 | K.H. Govt. Degree College, Dharmavaram. |
| 23 | K.S.N. Govt. Degree & PG College (W), ANANTAPUR. |
| 24 | K.S.N. Govt. Degree College for Women Anantapur. |
| 25 | K.T.S. Govt. Degree College, Rayadurg. |
| 26 | Kurli Annapurnamma Rami Redddy Degree College, Nallamada. |
| 27 | Little Flower Degree College, Ananthapuramu. |
| 28 | M.S. Degree College, Gooty. |
| 29 | Mahatma Degree College, Uravakonda. |
| 30 | Mangalakara Degree College, Jagarajapalli. |
| 31 | N.S.P.R. Govt. Degree College for(W), Hindupur. |
| 32 | Nalanda Degree College, Ananthapuramu. |
| 33 | Narayana B.PEd. College, Tadipatri. |
| 34 | P.S. Govt. Degree College, Penukonda. |
| 35 | P.V.K.K. Degree & PG College, ANANTAPUR. |
| 36 | P.V.K.K. Degree College, Ananthapuramu. |
| 37 | PRR Inst. of Management. & science, Gooty. |
| 38 | R.M.C. Degree College, Amarapuram. |
| 39 | Royal P.G. Centre, Rayadurg. |
| 40 | Rushi Arts & Science Degree College, Kundurpi. |
| 41 | S.D.G.S. Degree & PG College, HINDUPUR. |
| 42 | S.D.G.S. Degree College (Aided), Hindupur |
| 43 | S.K.L.N.S. Amruthavalli Kalasala, Kadiri. |
| 44 | S.K.P. Govt. & PG Degree College, GUNTAKAL. |
| 45 | S.K.P. Govt. Degree College, Guntakal. |
| 46 | S.P.V.M Degree College, Gorantla. |
| 47 | S.R. Degree College, Pamidi. |
| 48 | S.S.B.N. Degree & PG College, ANANTAPUR. |
| 49 | S.S.B.N. Degree College (Autonomous), Anantapur. |
| 50 | S.S.G.S. Degree College (Aided), Guntakal. |
| 51 | S.S.S. Govt. Degree College, Bukkapatnam. |
| 52 | S.T.S.N. Govt. Degree College, Kadiri. |
| 53 | S.V. B.PEd. College, Kadiri. |
| 54 | S.V.G.M. Govt. Degree College, Kalyandurg. |
| 55 | S.Y.T.R. Govt. Degree College, Madakasira. |
| 56 | Sai Master Minds Degree College, Ananthapuramu. |
| 57 | Sapthagiri Degree & PG College, HINDUPUR. |
| 58 | Sapthagiri Degree College, Hindupur. |
| 59 | Sarada Degree College, Gandlapenta. |
| 60 | Saraswathi Degree & PG College, TADIPATRI. |
| 61 | Saraswathi Degree College, Tadipatri. |
| 62 | Sir C.V.Raman Degree College, Tadipatri. |
| 63 | Sonia Gandhi Degree College, Kanekal. |
| 64 | Space Degree College, Kadiri. |
| 65 | Sree Devi Degree College, Boram Palli. |
| 66 | Sreedevi College of Education (MEd.), KALYANDURG. |
| 67 | Sreenivasa Degree & PG College, DHARMAVARAM. |
| 68 | SRI BALAJI COLLEGE OF EDUCATION, KOTHACHERUVU. |
| 69 | Sri Balaji Vidya Vihar Degree College, Hindupur. |
| 70 | Sri Chaitanya Degree College, Gooty Road, Bukkarayasamudram. |
| 71 | Sri Desai Reddeppa Reddy Degree College, Mudigubba. |
| 72 | Sri Koti Ramudu Memorial Degree College, Tadimarri. |
| 73 | Sri Koti Sai Lipi Degree College, Bathalapalli. |
| 74 | Sri Lakshmi Vigneswara Degree College, Chennekothapalli. |
| 75 | Sri Matha Jayalakshmi Degree College, Kadiri. |
| 76 | Sri Sai Degree & PG College, ANANTAPUR. |
| 77 | Sri Sai Degree College, Ananthapuramu. |
| 78 | Sri Sai Degree College, Dharmavaram. |
| 79 | Sri Sai Degree College, Gooty. |
| 80 | Sri Sai Krupa Degree College, Dharmavaram. |
| 81 | Sri Sai Sidhartha Degree College, Ananthapuramu. |
| 82 | Sri Sai Women's Degree College, Ananthapuramu. |
| 83 | Sri Sai Women's Degree College, Guntakal. |
| 84 | Sri Saila Bramarambika Degree College for Women, Guntakal. |
| 85 | Sri Satya Sai Degree College, Penukonda. |
| 86 | Sri Siva Sai Degree College, Kothacheruvu. |
| 87 | Sri Vani College of Physical Education, Hindupur. |
| 88 | Sri Vani Degree College, Ananthapuramu. |
| 89 | Sri Vani Degree College, Kadiri. |
| 90 | Sri Venkateswara Degree & PG College, ANANTAPUR. |
| 91 | Sri Venkateswara Degree College, Ananthapuramu. |
| 92 | Sri Venkateswara Degree College, Guntakal. |
| 93 | Sri Venkateswara Degree College, Kadiri. |
| 94 | Sri Venkateswara Degree College, Tadipatri. |
| 95 | Sri Venkateswara Degree College, Yadiki. |
| 96 | Sri Vidya Degree College, Kothacheruvu. |
| 97 | Sri Vinayaka Degree College, Talupula. |
| 98 | Sri Vivekananda Degree College, Chilmathuru. |
| 99 | Sri Vivekananda Degree College, Dharmavaram. |
| 100 | Sri Vivekananda Degree College, Kadiri. |
| 101 | SRIDEVI COLLEGE OF EDUCATION, KALYANDURG. |
| 102 | Srinivasa Degree College, Dharmavaram. |
| 103 | Srinivasa Degree College, Tanakallu. |
| 104 | STYR Govt. Degree & PG College, MADAKASIRA. |
| 105 | SUSHEELA COLLEGE OF EDUCATION, ANANTAPURAMU. |
| 106 | Swamy Vivekananda Degree College, Kalyandurg. |
| 107 | Vani Degree & PG College, ANANTAPUR. |
| 108 | Vidya Ratna Dr.K.G.A Gupta Degree College, Agali. |
| 109 | Vignan Degree College, Kadiri. |
| 110 | Vignan Degree College, O.D.Cheruyu. |
| 111 | Vijayanagara PG College of Law (ML), ANANTAPUR. |
| 112 | Vivekananda Degree & PG College, KADIRI. |