RTE Karnataka Admission 2023-24
The Department of Public Instruction working under the Government of Karnataka has made available the Online Application Form for the RTE Admissions to the Karnataka schools for the year 2023-24. Eligible candidates are invited to apply for RTE admissions to the government and private schools in the Indian state of Karnataka.
Students who hail from the socially and economically backward sections of society have the basic right to education as per the RTE Act of the Constitution of India.
You can find details about the eligibility norms and application process pertaining to the Karnataka RTE Admissions 2023-24 below.
Karnataka RTE Admission Overview
Name Of The Scheme
Right to Education in Karnataka
Launched By
State government of Karnataka
Beneficiary
Financially & Backward Community Students
Objective
To Provide Free And Compulsory Education
Year
2023-24
State
Karnataka
Mode Of Application
Online & Offline
Reservation %
25% Reservation For Admission
Class Admission
For LKG, UKG, & 1st Class Admission
Official Website
schooleducation.kar.nic.in
RTE Karnataka Admission 2023-24: Eligibility Criteria
The eligibility norms for the RTE Karnataka Admissions 2023-24 are seen herein:
The family of the student has to belong to the Below Poverty Line (BPL) section
He/she is required to be a resident of the Karnataka state of India
The family income of the applicant should not exceed Rs 3.5 lakh
Priority will be granted to children belonging to the disadvantaged sections of society – orphans, children with special needs, children of farmers who have committed suicide, among others
The age limit criteria are given below:
Pre-School years: From the ages of 3 years and 10 months to 4 years and 10 months
1st Standard: From the ages of 5 years and 10 months to 6 years and 10 months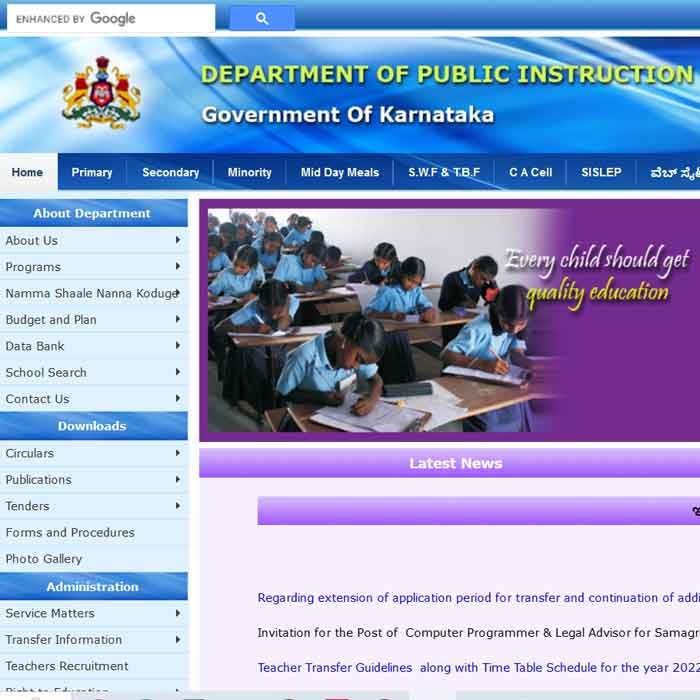 RTE Karnataka Admission 2023-24: List of Documents
Students applying for RTE admission in the Karnataka-based schools have to submit the following list of documents:
Date of Birth Certificate copy
Domicile Certificate copy
Income Certificate copy
Caste Certificate copy
Disability Certificate copy (if applicable)
Copy of recent Admission receipt
Photograph (passport-size)
RTE Karnataka Admission 2023-24: How to Apply Online
The steps to apply online for the Karnataka RTE Admissions 2023-2 are studied below:
Start by visiting the home page of the official website of the RTE Karnataka Admissions, https://www.schooleducation.kar.nic.in/index.html
Now, locate the "Administration" section and tap the "Right To Education" tab and then select the "RTE Admissions" option from the submenu
Look for the tab containing details about the instructions to apply for the Karnataka RTE Admissions; ensure you study all the guidelines thoroughly
The next step includes Registration, for which you have to access the Online Registration Form and provide the requisite details
As part of the Registration process, you will receive your "Login ID" and "Password", which you should note down
Subsequently, you have to log in to your account with your login credentials
After signing in to your account, you have to access the Online Application Form and fill in the stipulated details
Moreover, you must upload scanned copies of the mandatory list of documents
Before submitting your application, you have to check all details in your application form.
In case of any discrepancies, make sure you correct them and only then you should submit your application
It is also mandatory to maintain a print copy of your Karnataka RTE Online Application Form for your records
RTE Karnataka Admission 2023-24: Selection Merit List 2023-24
Here are the steps to check the 1st, 2nd, and 3rd Selection List of the Karnataka RTE Admissions 2023-24
Go to the home page of the Karnataka RTE Admission web link, https://www.schooleducation.kar.nic.in/index.html ; and locate the "RTE Admissions" tab under the "Administration" section
On the following page, you should search for the "Merit List / Selection List" tab and click on the same
If the system prompts you for any details such as "School Name", "School District", or "Application Number", enter the required details
This done, you will be able to view the "Karnataka RTE Merit List / Selection List 2023-24" on the screen
Important Links
Karnataka RTE Online application
Click Here
Karnataka RTE Student Application Status
Click Here
Karnataka RTE Lottery Result 2023-24
Click Here
Karnataka RTE Official Website
Click Here