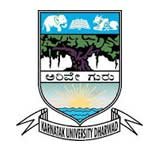 The Karnatak University, Dharwad (KUD) is a state university located in the city of Dharwad, Karnataka . The Bombay legislature of the erstwhile Bombay Presidency established the Karnatak University and it became the statutory university on 1st March 1950. Spreading across 888 acres of the land the university offers courses in faculties of Arts, Commerce, Science and Technology, Law, Management, Social Science, Education etc. It is the second oldest university in the state after the University of Mysore. Right now it offers 47 PG programs along with 5 constituent colleges offering UG and PG courses in science, arts, commerce, fine arts, aw and education. Over the last 60 years, the number of colleges affiliated to the university is increased from 34 to more than 250.
The Karnatak University offers a wide range of courses to the students which include 50 PG courses, 4 advanced diplomas, 28 diplomas, 11 certificate courses, 26 M.Phil and 42 Ph.D. programs to the aspirants. During the last five years, it has introduced several technical courses and self-financing courses like the integrated course of Master in Tourism Administration, MCA, P.G Diploma in Bank Management, M.Sc (Microbiology) MBA (Evening Programs) etc. It has a modern campus which is well equipped with all the modern amenities to cater the needs of the students.
To know more details about the university students can visit the official website of the university which is www.kud.ac.in. They can also visit the education portal www.onlineresultportal.com to check all the necessary updated information of various universities, colleges, ITI's, IIT's , polytechnics etc to get all the updated information regarding courses, fee structure, downloading of application forms, results etc.
Karnataka University Result 2023
Karnataka University (KU), traced to Dharwad in the Indian state of Karnataka, makes available the examination results of its different affiliated programs on its official weblink, https://www.kud.ac.in/index.php. Students awaiting their exam results of the KU course exams are advised to visit its official website to check/download their results.
Once the KU authorities declare the examination results, you have to visit the home page of its official website. The next step is to search for the "Exam Section" tab and tap the "Result" link from the given drop-down menu. When the system gets directed to the new page, you should click on the relevant result link. This done, the system displays the login page. Continue by entering your login credentials on this page, after which you can view your exam result on the screen. Always have a print copy of your KU examination result for record purposes. Moreover, get in touch with the KU examiners if you notice any errors in your exam result for the necessary corrections.

    Details of Karnataka University
  Full Name
 Karnataka University
  Affiliations
 UGC
  Contact No
 0836 244 8600
  Website
 www.kud.ac.in
  Founded
 October 1949
  Email
 icnodal@kud.ac.in
  Address
 Pavate Nagar, Dharwad, Karnataka 580003
  State
 Karnataka
  Country
 India
List of courses offered by Karnataka University

  Degree
   Duration
Post-Graduate Courses
Faculty of Arts
Kannada, English, Folklore, Foreign Languages (French), Hindi, Linguistics, Marathi, Sanskrit, Urdu & Persian, Music (Vocal, Tabala & Sitar: Non-Semester)
Faculty of Social Sciences
Ancient Indian History & Epigraphy, Anthropology, Criminology & Forensic Science , Economics, History & Archaeology, Jainology, Mass Communication & Journalism, Library & Information Science, Philosophy,Political Science, Psychology, Sociology, Social Work
Faculty of Science
Biochemistry, Biotechnology, Botany, Chemistry, Electronics, Geography, Applied Geology, Applied Genetics, Mathematics, Microbiology, Physics, Statistics, Zoology, Computer Science,
Faculty of Commerce
M.Com., M.Com(CS)
Faculty of Law
LL.M.
Faculty of Education
M.Ed (2 Semesters), M.P.Ed. (4 Semesters)
Faculty of Management
MTA (Lateral Entry to 4th Year of 5 years MTA Course)
PG Diploma courses
Faculty of Arts
Functional Hindi/Translation, Linguistics, Translation and official correspondence in Hindi, Translation in Kannada, Folklore, Prachyalekhana Adhyayana, Basava Studies, Kanaka Studies
Faculty of Social Sciences
Ambedkar Studies, Epigraphy, Gandhian Studies, Jainology, Women's Studies, Yoga Studies, International Diploma in Reproductive Health Management (IDIRHEM-2 Semesters), Archaeology & Museology (Self-finance) Conservation and Heritage Management (Self-finance) at Kannada Research Institute
Faculty of Science
PGDCA (2 Semesters), Ground Water Geology, Remote Sensing, Industrial Mineralogy
Advanced Diploma Courses
Faculty of Arts
French, German, Russian, Sanskrit
Diploma Courses
Faculty of Arts
French, German
Certificate Courses
Faculty of Arts
Kannada, Arabic, French, German, Russian, Music, Prakrit, Sanskrit, Tamil, Spanish (Self–finance)
Faculty of Social Sciences
Yoga Studies
Faculty of Science
Statistical Computing
Post-Graduate Centre, Karwar
Post-Graduate Courses
Faculty of Science
Marine Biology
Faculty of Commerce
M.Com.
PG Diploma Course
Faculty of Science
Satellite Oceanography (PGDSO) (Self Finance)
Post-Graduate Centre, Gadag
Post-Graduate Course
Faculty of Commerce
M.Com. (A.S.S. Commerce College Campus, Gadag)
PG Diploma Course
Faculty of Science
PGDCA (Basaveshwar Arts & Commerce College Campus, Gadag)
List of colleges affiliated with Karnataka University

  City
   College Name
Bagalkot
1
BLDE Association's Commerce, BHS Arts and TGP Science College
2
BLDE Association's Law College – BLDEALC
3
BVV Sangha's Basaveshwar Arts College
4
BVV Sangha's Basaveshwar College of Physical Education
5
BVV Sangha's SC Nandimath Law College
6
BVV Sangha's Shri S.R. Kanthi Arts, Commerce and Science College
7
BVVS College of Education
8
Government College of Teacher Education
9
Government First Grade College
10
Government First Grade College
11
M.V.V.S. College of BBA
12
R.G. Sheelavant Arts and Commerce College
13
Rudragouda Patil Government First Grade College
14
S.B.V.S. Arts & Science College for Women
15
S.J.G.V.V.C.S's BSW College
16
S.K.E.S's Arts College
17
Shri BVV Sangha Sajjalashri Institute of Nursing Science College
18
Shri H.V.S's Rural Arts College
19
Shri Sadashiv B.Ed. College
20
Shri Vijay Mahantesh Vidya Vardhak Sangh's Arts, Science and Commerce College – SVMVS
21
Siddarth College of Education
22
Sri Sadashiva B.Ed. College
23
Vidya Prasarak Mandal's S.R.N. Arts and M.B.S. Commerce College
Bangalore
1
St. Francis B.Ed. College
2
Universal College of Education
3
Varsha Correspondence College
Belagavi
1
GI Bagewadi Arts, Science and Commerce College
2
KLS Gogte College of Commerce
Belgaum
1
AA Patil Arts and Commerce College for Women
2
Ajjappa Gadami Arts and Commerce College
3
Angadi Institute of Management Studies – AIMS
4
Annapoorna Institute of Management Research – AIMR
5
Belgaum Institute of Management Studies
6
Beynon Smith Methodist Degree College of Arts
7
Bharatesh College of Business Administration
8
Bharatesh College of Computer Applications – BCCA
9
Bharatesh College of Education
10
Bhaurao Kakatkar College – BK
11
Chikodi Taluka Education Society's B.P.Ed College
12
CLE Societys B.Ed. College
13
CTE Society College of Physical Education
14
CTE Society's Arts and Commerce College
15
Dr. Shirgaokar Educational Trusts Arts and Commerce College
16
G.V.P.'s College of Business Administration
17
Gokak Education Society's College of Education
18
Government First Grade College
19
Govindram Seksaria Science College – GSSC
20
K.R.C.E.S. Law College
21
Kalpavruksha Institute of Management Studies
22
KLE College of Education
23
KLE Society Bachelor of Computer Application College
24
KLE Society's Shri Shivayogi Murughendra Swamiji College – ATHANI
25
KLE Society's, Basavaprabhu Kore Arts, Science and Commerce College
26
KNVV Sangha's Arts and Commerce College
27
KRCE Society's GGD Arts, BM Patil Commerce and SV Sadhunavar Science College
28
Maratha Mandal's Arts and Commerce College
29
Maratha Mandal's Arts, Commerce, Science and Home Science College
30
Mudalgi Education Society' Batchelor of Physical Education College
31
P.A. Jain Bharatesh College of Business Administration
32
Rani Parvati Devi College of Arts and Commerce – RPD College
33
Rural Development Society's B.S.W. College – RDS
34
S.M.E.S's Shri Murugarajendra Degree College
35
S.R.S.S's Arts College
36
SDVS Sangh's Shri LK Khot College of Commerce
37
Shikshan Prasarak Mandal Arts and Commerce College – SPM
38
Shivanand College
39
Shree Gomatesh Education Society's Institute of Nursing
40
Shri Laxmanrao Jarkiholi College of Education – B.Ed.
41
Shri Laxmanrao Jarkiholi Law College
42
Smt. Kusumavati Miraji Arts and Commerce College
43
SS Arts College and T.P. Science Institute
44
SSN Arts and Commerce College
45
SVS Bellubbi Arts and Commerce College
46
Vidya Prasarak Samiti's College of Education
47
Vidya Samvardhak Mandal College of Education
48
Vidya Samvardhak Mandal College of Physical Education
49
VSM B.B.A. College
50
VSM BCA College
51
W.W.S. B.S.W. College
Bhatkal
1
Anjuman Arts, Science, Commerce College and P.G. Centre
2
Anjuman College of Education
3
Anjuman Institute of Management and Computer Application
4
Shree Guru Sudhindra BCA College
5
Shree Jnaaneshwari College of Education
Bijapur
1
Almel Educational Association D.Ed College – AEA
2
Anjuman-E-Islam's College of Education
3
ASS Narendra College of Physical Education
4
B.L.D.E.A.'s Arts and Commerce College for Women
5
Banjara Physical Education College
6
BLDE Association's AS Patil College of Commerce
7
BLDEA Jnyanayogi Shri Siddheshwar Swamiji College of Education
8
Chetana BBA and BCA College
9
Government First Grade College
10
GP Porwal Arts, Commerce and V.V. Salimath Science College
11
JH Patil College of Education
12
Kumud Ben Durbar College of BCA
13
Kumud Ben Durbar College of Business Administration
14
Matoshri Gangamma Veerappa Chiniwar College
15
MGVC Arts, Commerce and Science College
16
Narendra B.P.Ed. College
17
Ramakrishna Vivekananda BCA College
18
S.M. Hilli Degree College
19
S.S.V.V. Sangha's Shri G.R. Gandhi Arts and Shri Y.A. Patil Commerce College
20
Shri Fulasing Narayan Chavan Memorial B.Ed College
21
Shri Padmaraj B.Ed. College
22
Shri Shantaveer Arts College
23
Shri Veereshwar Vidya Vardhak Sangh's D.Ed College
24
SK College of Arts and Commerce
25
SMRK Vidyavardhak Sangh College of Education
26
Sri Ghanamatheshwar College of Education
27
Sri V.V.S. Veereshwar Arts College
28
VVSK College of Arts and Commerce
Chikballapur
1
Lorven International Law College
Davanagere
1
T.M.A.E. Society's College of Education
Dharwad
1
Adept Business College
2
Anjuman Arts, Science and Commerce College
3
Anjuman Institute of Information Science and Management
4
Anjuman Institute of Information Science and Management
5
Basvareddy BBA College
6
GEC's GS Patil Arts and Commerce College
7
Hurakadli Ajja Law College
8
JSS Banashankari Arts, Commerce and Shantikumar Gubbi Science College
9
Karnatak Arts and Commerce College
10
Karnataka Science College
11
Kittel Arts College
12
Kittel Science College
13
Kittur Rani Channamma Education College of Computer Application
14
KLE Society's Sri Mrityunjaya College of Arts and Commerce
15
Kousali Institute of Management Studies – KIMS
16
KPES Law College
17
MVAS Shree KG Nadgir College of Physical Education
18
NTS Samiti's Shri Shankar Arts and Commerce College
19
R.S. Shetty College of Business Administration
20
RS Shetty College of Commerce
21
Rukmini Shetty Memorial Sudhakar Shetty BCA College
22
Rural B.Ed. College
23
Shri Sai B.Ed. College
24
Shri Siddharoodha B.Ed. College
25
Siddharameshwar College of Education
26
Sonia Education Trust's College of Education
27
Sri Manjunatheshwara College of Education
28
Trinity College of Business Administration
29
University College of Law
Gadag
1
Abdulkalam College of Information Science and Management
2
ASS's College of Commerce
3
Basanagouda Giraddi Government First Grade College
4
DC Pavate College of Education
5
Jagadguru Tontadarya Arts, Science and Commerce College
6
Kanakadas Shikshana Samiti's Arts, Commerce and Science College
7
KKS B.S.W. College
8
KLE Society's S.A. Manvi Law College
9
KR Bellad Arts and Commerce College
10
Rajiv Gandhi Education B.Ed. College
11
S.K.V.P.S. Arts, Science and Commerce College
12
Shree Siddeshwar Government First Grade College
13
Shri Annadaneshwar Arts, Science and Commerce College
14
Sri Jagadguru Fakkireshwar Government First Grade College
15
Vijaya College of Fine Arts
Gulbarga
1
Bi Bi Raza Degree College for Women
Hassan
1
Malnad College of Engineering – MCE
Haveri
1
BESM Arts and Commerce College
2
BR Tambakad Arts, Commerce and Science First Grade College
3
KLE Society's K.F. Patil College of Business Administration
4
M.V.P's Mahanta Swamy Arts, Science and Commerce College
5
RTE Society's Arts, Science and Commerce College
6
Shri Kumareshwar Arts and Commerce College
7
Shri Rambhapuri Jagadguru Veeragangadhar Arts and Commerce College – SRJV
8
SJM Vidyapeeth Basaveshwar B.Ed. College
Hubli
1
Anjuman Centenary B.Ed. College
2
Fatima College of Business Administration – FCBA
3
Fatima Degree College
4
Global College of Managment, Information Technology and Commerce
5
Institute of Business Management and Research – IBMR
6
Institute of Excellence in Management Science – IEMS
7
Jagadguru Gangadhar College of Commerce – JGCC
8
JK Institute of Business Administration and Information Technology
9
KLE Society PC Jabin Science College
10
KLE Society's College of Education
11
KLE Society's Institute of Management Studies and Research – IMSR
12
KSS Arts and Commerce College
13
Nehru Arts, Science and Commerce College
14
Nithisha Lahari Society's BBA College
15
Nithisha Lahari Society's College of Computer Application
16
Oxford College
17
RN Shetty College of Hotel Management and Catering Technology
18
RNS College of Business and Hotel Administration
19
Sana College of Education
20
Sana College of Information Science and Management
21
SDM Institute of Information Science
22
Shree Jagadguru Moorusavirmath Vidyavardhak Sangha's Arts and Commerce College
23
Shri Manjunatheshwara Commerce College
24
Vijayanagar College of Education
Kannada
1
Bapuji Grameen Vikas Samitia's Arts and Comerce College – BGVS
2
DES's Bangurnagar Arts, Science and Commerce College
3
Divekar College of Commerce
4
Dr. AV Baliga College of Commerce and Business Administration
5
Gokhale Centenary College – GCC
6
Government Arts and Science College
7
Government First Grade College
8
Government First Grade College
9
Government First Grade College
10
Government First Grade College
11
Kamala Baliga College of Education
12
Kanara Welfare Trusts B.Ed. College
13
Kirloskar B.S.W. College
14
KLE Society's College of Education
15
Mahatma Gandhi Centenary Arts, Commerce and Ganesh Dodamane Science College
16
MGC Arts, Commerce and GHD Science College
17
MPE Society's Shree dharmasthala Manjunatheshwara College
18
Shree Guru Sudhindra Degree College
19
Shri Bhadrakali First Grade Arts College
20
Shri Shivaji College of Education
21
Sowkhya College of Education
Karimnagar
1
RBVRR College of Education
Khammam
1
SR and BGNR Government College
Kolar
1
Sree Vijendra B.Ed. College
2
Suguna B.Ed. College
3
Vishnu B.Ed. College
Mumbai
1
Mumbai Institute of Information Technology – MIIT
Mysore
1
SCVDS Nursing School
2
Sri KMKG College Education
3
Vidyodaya Arts and Commerce First Grade College
Raichur
1
Sri Veerashaiva Samaja College of Education
Shimoga
1
Gurukula College of Communication and Management
Trivandrum
1
Amtec Animation Academy
Tumkur
1
Siddaganga College of Nursing Science
2
T.V. Venkateswara Swamy College of Education
Udupi
1
Dr. AV Baliga College of Arts and Science