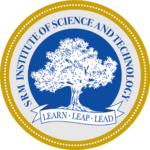 Sri Ramaswamy Memorial Institute of Science and Technology or the SRM Institute of Science and Technology was referred to as SRM University previously. Situated in Chennai, Tamil Nadu, the private institute was given deemed status during the academic year 2004-05.
Initially, the center was named as 'the SRM Institute of Science and Technology'. Then, in the year 2006, the University was renamed as 'SRM University'. Again, in the year 2017, the educational center came to be known as 'the SRM Institute of Science and Technology'; the University Grants Commission requested the term 'University' to be dropped from the center's name.
During the year 1985, the SRM Engineering College was instituted in Kattankulathur and came under the University of Madras. Presently, the SRM University runs courses through 8 campuses, out of which 4 are based in Tamil Nadu; while the others are located in Sonepat in Haryana, Amaravati in Andhra Pradesh, Gangtok in Sikkim, and Delhi NCR region.
The Institute has been approved and accredited by the UGC and the National Assessment and Accreditation Council (NAAC) respectively. In fact, the NAAC has conferred the A++ grade to the educational institution.
The Amaravati Campus in the Indian state of Andhra Pradesh (AP) is the latest SRM campus to be launched. The Institute's chief executive and Inaugural Vice Chancellor has been named as Jamshed Bharucha. Through the years 2017 and 2018, the School of Engineering & Applied Sciences and the School of Liberal Arts & Basic Sciences were scheduled to be launched at the AP campus. The designers of the campus are a Canada-based architectural firm, Perkins and Will. The center's hostel facilities can host around 1500 students.
SRM University Exam Result on srmap.edu.in
The SRM University, located at Amravati in the Indian state of Andhra Pradesh, declares the exam results of its affiliated academic programs on its official web portal, https://srmap.edu.in/. Additionally, the SRM University authorities keep the students informed about the exam result release dates via notifications.
Once the SRM University authorities declare the exam results, you must visit the official website to check your result. Start by tapping the "Student Corner" tab on the home page. After this, all you have to do is follow the system instructions to view your result on the screen. Students must maintain a print copy of their results for reference purposes. Moreover, should you notice any discrepancies in your result, ensure to contact the University authorities for making the corrections.
The SRM University offers a host of courses through its different faculties. The faculties include the School of Engineering & Sciences, School of Liberal Arts & Social Sciences, and School of Entrepreneurship and Management Studies.
    Details of SRM University Andhra Pradesh
  Full Name
 SRM University Andhra Pradesh
  Affiliations
 UGC
  Contact No (toll-free)
 080-6988-6999
  Website
  https://srmap.edu.in/
  Founded
  2017
  Email
  helpdesk@srmap.edu.in
  Address
  Mangalagiri Neerukonda Tadikonda Rd, Mangalagiri, Mandal, Andhra Pradesh 522502
  State
  Andhra Pradesh
  Country
  India