The e-Pathshala app/portal is an initiative by the Ministry of Human Resource Development (MHRD) of the Government of India, the Central Institute of Education Technology (CIET), and the National Council of Educational Research and Training (NCERT). However, the developers of the e-Pathshala app are both the CIET and NCERT. 
The MHRD has launched the app under its National Mission on Education via ICT (NME-ICT) that the UGC administers. As part of the Digital India campaign, the use of ICTs in the teaching-learning process is being promoted.
The e-Pathshala app was launched during November 2015, with a range of educational resources for students, teachers, educators, parents, and researchers. The app is accessible via the Web and available via Windows, App Store, and Google Play.
On the e-Pathshala app, users can avail a host of educational resources. These include audio-visual resources by NCERT, teacher training modules, NCERT textbooks for classes from 1 to 12. Apart from that, the platform contains an array of print and non-print materials, supplements, and periodicals.
In addition, you can download the educational material for offline use, without any restriction on the number of downloads. More so, the app comes in a flipbook format to make the learning experience enjoyable and realistic.
The app contains content in 70 subjects, including all streams of natural & mathematical sciences, fine arts & humanities, arts, social sciences, among others.
The e-Pathshala app is downloadable on your laptop, mobile, or desktop.
In all, the app aims to promote self-learning among students.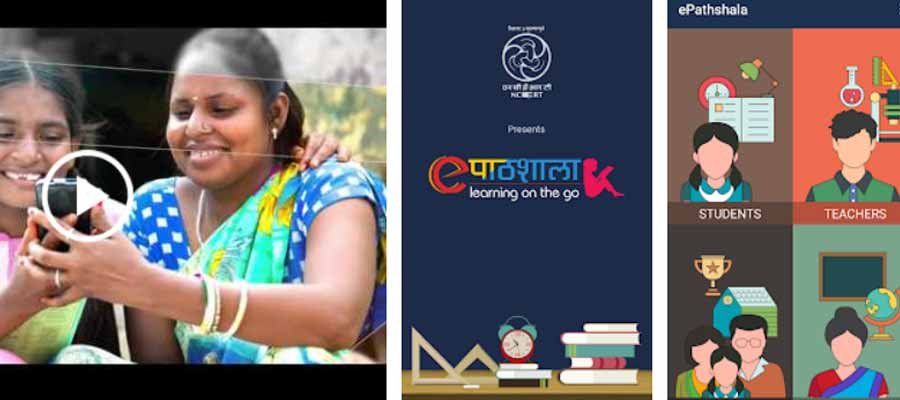 How to download the e-Pathshala app on mobile?
To download the e-Pathshala app, you must visit the Google Play Store. Here, search for the e-Pathshala app and follow by selecting the relevant link for the download process to start.
How to use e-Pathshala?
Herein, we explain more on how to use the e-Pathshala app.
In the NCERT books, at the top of each chapter, a Quick Response (QR) code is given.
Scan the Code through the e-Pathshala app
Scan the code of the specified chapter through the e-Pathshala app. Thereafter, you can access the related audio, video, and e-Resources of the given chapter.
So, after you read new chapters, you must scan the QR codes. Then, you can access the relevant educational aids about that chapter.
On the other hand, if you're using desktop or laptop, then you must click on the following link to access the chapter details.
http://epathshala.nic.in/topics.php?ln=en
Here, you must input the QR Code details in the box and follow by clicking on the 'GO' option.